The debt collection stamp is a popular as well as an elegant way to encourage your Polish contractors to pay their due payments on time.
In Poland the debt collection stamp (also known to as a preventive stamp) is usually placed on any invoice or other document stating the due amount from the contractor. It presents a clear message informing the recipient of the invoice about cooperation with the Law Office and the consequences related to any delays in payment.
In essence it implements the principle that prevention is better than cure.
NOTE: The use of our stamp doesn't force you in any way to use the help of the Law Office as part of the debt collection procedure. The decision to use our services in any particular case is entirely up to you.
Where can you put our Debt Collection Stamp:
on invoices,
on interest notes,
on the writ of a gift,
on payment requests,
on any documents confirming the claim.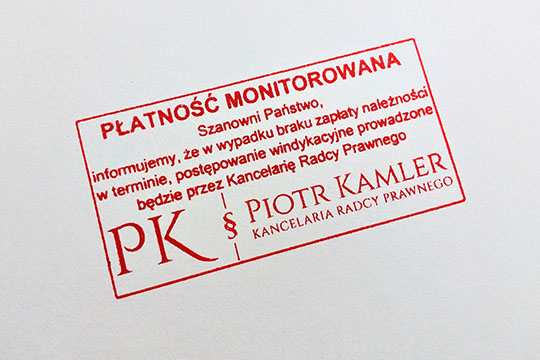 How much does it cost to use our Debt Collection Stamp?
The Debt Collection Stamp is available as part of the license (subscription).

Currently, the following license periods are available:
6 months (PLN 69.00 per month, total price: PLN 414.00)
12 months (PLN 59.00 per month, total price: PLN 708.00)
24 months (PLN 49.00 per month, total price: PLN 1176,00)
Aside of the abovementioned prices, our Debt Collection Stamp does not entail any additional fees, deposits or conditions. We adhere to the principle of full transparency and provide all the important price information to the Client.
During the license period, we guarantee our Clients preferential terms for any debt collection services.
To order our Debt Collection Stamp, please complete the Order From
In order to discuss the details and terms of legal assistance – we invite you to contact us.
We will be happy to help with any and all of your questions.

Do you want to learn more about your rights in Poland? We invite you to read our official blog.
We publish articles in Polish, English and Russian.